Recent Industrial Minerals Mine Consulting Projects: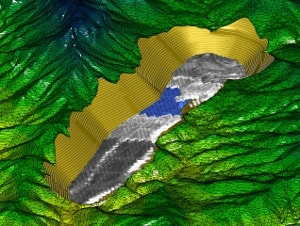 2015 Open-pit Lithium Project
Bayovar 12 - Crops Inc. / Focus Ventures Ltd., Piura, Peru
Mine Planning and Production Scheduling
Sonora Lithium Project - Bacanora Minerals Ltd. , Sonora, Mexico
Development of Resource and Reserves, Mine Strategic Planning, Equipment and Capital Costs for a Mine Feasibility Study.
NV Mijnmaatschappij - NV Mijnmaatschappij Limestone, , Curacao, Netherlands Antilles
Reserve Determination and Alternative Mine Plans. Mine Plan Evaluation of Alternative Extraction Sequences
Kapaa Quarry - Ameron Hawaii, Oahu, Hawaii, USA
Mine Planning, Develop Various Alternative Mine Plans for Expansion of the Quarry.
Dragoon Marble Quarry - Gadsden Sonora Holdings LLC, Arizona, USA
Material Status, Allocation of Mined Material by Land Status.
CEMEX Gypsum - National Gypsum Co. , Arizona, USA
Block Model Development, Material Status Allocation
Drake Cement - Drake Cement, Arizona, USA
Develop a Preliminary Model of the In-Situ Iron Resource, Overview of Developing Open Pit and Underground Operations.
Calmat Operations - Arizona Department of Transportation, Arizona, USA
Alternative Haulage Costs, Volume and Reserve Determination
Camp Grant Quarry - Broken Hill Proprietary, Arizona, USA
Reserves and Mine Plans, IMC Developed Resource Models and Mine Plans for a High Quality Silica Quarry
Douglas Quarry - Chemical Lime Company, Arizona, USA
Mine Planning and Cost Estimates
Granite Quarry - PT Karimum Granite Quarry, Karimum, Indonesia
Long Term Mine Planning, and Land Use Planning, Evaluation of Extraction Sequences.
East Feldman Pit - National Gypsum Co. , Arizona, USA
Resource Estimate Determination
Pueblo Gravel - GSA Resources, Inc. , Colorado, USA
Resource Calculation of a Sand and Gravel Deposit
Sunward Materials - Sunward Materials, Arizona, USA
Mine Plan, Resource Estimate, Process Testing and Process Selection with Subcontractor
Temescal Canyon - Standard Concrete Products, California, USA
Reserves, Mine Plans, Equipment Selection, Cost Estimation
Wilhelm Project - Blue Circle Cement, Inc. , California, USA
Resource Calculations and Mine Planning
Boron Mine - U.S. Borax, California, USA
Resource and Reserve Estimation, Mine Planning and Production Scheduling
San Pedro Garnet - Mountain States Research and Development, New Mexico, USA
Mine Planning Review
Sishen Mine Iscor - P & H Equipment, Eastern Cape, South Africa
Equipment Selection and Mining Cost review
Arid Operations - Gold Fields Mining Corp., California, USA
Material Status, Allocation of Mined Material by Land Status.
Serrana - Mountain States Research and Development, Sao Paulo, Brazil
Mine Plan, Resource Estimate, Conveyor Versus Truck Haulage Study
Halawa Quarry - Hawaiian Cement, Oahu, Hawaii, USA
Reserve Determination and Alternative Mine Plans
Redding Quarry (Calaveras Cement) - Lehigh Cement Company LLC, California, USA
Drill Program Planning and Preliminary Resource Estimates