MINE DESIGN, PLANNING, AND SCHEDULING
Independent Mining Consultants, Inc. has had the long-standing opportunity to develop mine plans for a large number of commodity producers from: Arizonan porphyry copper open-pit operations, world class Indonesian surface and underground mines, Carlin Trend gold companies, extensive Latin American metal and industrial mineral properties, and to poly-metallic Turkish mines.
Our mine experience spans from surface open-pit to underground operations of all sizes managed by clientele ranging from large multi commodity producers to small scale mines. Since 1983, we have diversely practiced mine engineering in the Base Metals, Precious Metals, and Industrial Minerals commodity sectors.
Reliable and Proven Mine Planning
Clients call upon IMC for our mine plans which emphasize profitability, practicality, and risk management. With more than 30 continuous years of mining industry experience, we offer your company seasoned mine consulting advice for guidance through the inherent risks in mining and onto profitable production.
To the benefit of our clients, we have historically established and continue to advance today's industry proven mine planning best practices like discounted pit optimization, optimum sequencing of operational mine phases, and cut-off grade and mine product scheduling optimization. With our versatile mining background, we make recommendations comprising all aspects of the mining industry's best practices, innovations, and technologies, proven and new.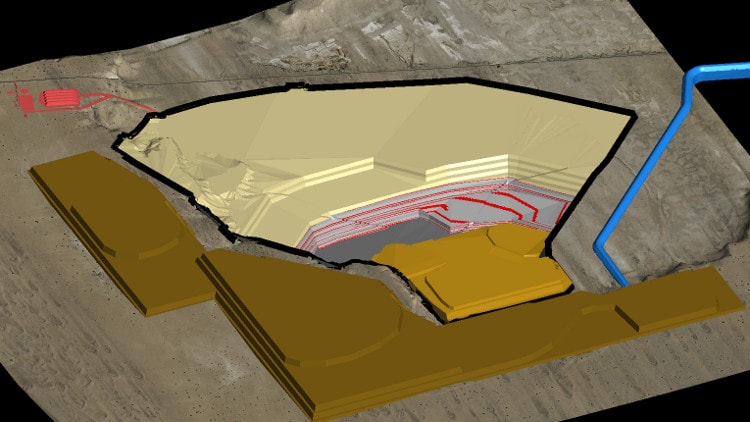 Worldwide Name Recognition for Technical Documents
We are known worldwide for delivering resource and reserve statements, conceptual studies, scoping studies, preliminary economic assessments (PEA), and feasibility studies (FEAS) for the base metals, precious metals, industrial minerals, and aggregates markets. Our technical documents have been reviewed and accepted by leading international financial institutions for investment decisions. Many properties have been successfully financed based on work completed by the engineers and geologists of Independent Mining Consultants.
Contact Us
IMC prides itself on being versatile, cost effective, and receptive to our clients' needs and invested parties so that your objectives are met in the best manner possible fit to your requirements and schedules. We would be happy to discuss your individual mine consulting requirements, Contact Us Here ».
MINE PLANNING SERVICES
Open Pit Mine Design and Mine Planning
Surface and Underground Mine Evaluation
Optimum Mine and Mill Lifecycle Production Rate Analysis
Production Scheduling and Strategic Planning (Short and Long Range)
Waste and Stockpile Storage Facility Design and Sequencing
Mine Equipment Evaluation, Selection, and Fleet Requirement Estimation
Mine Capital and Operating Cost Estimation
Life-of-Mine Cashflow Estimation/Analysis
Comprehensive Mine Planning Capabilities
Discounted Pit Optimization
Optimum and Operation-Oriented Phase Sequencing
Cut-off Grade Scheduling Optimization
Mine Product Constrained Scheduling Optimization
Thorough Data Distillation for Trend/Risk Analysis
Trade-off Studies and Best Case Selection
Cashflow Sensitivity Analysis
Detailed drawings of monthly and yearly mine plans including pit and waste rock pile developments.
Concurrent Critical Flaw and Opportunity Identification
Most of all, Our Versatile and Flexible Approach to Serve the Client and Their Needs
Other Mine Consulting Services We Offer:
IMC has been in business for over 33 years and has worked for more than 250+ different clients on over 500+ projects world wide. The staff of IMC has experience in a wide range of mineral commodities including base metals, precious metals, industrial minerals, and aggregates.
The IMC staff has been together for some time. Consequently, our project lists reflect the recent experience of the IMC principals and personnel.