RESOURCE MODELING & ESTIMATION
Independent Mining Consultants, Inc. has honed our multi-disciplinary expertise for over 30 years with extensive experience in the numerous Base Metals, Precious Metals, and Industrial Mineral projects that we have worked on. Our clients range from Fortune 500 companies, intermediate sized mines, diverse commodity producers and exploration firms. IMC has significant experience in projects world-wide in a variety of geologic and geographic environments.
Why Choose Us for Your Resource Estimation?
We differ from our competition in that we take a multi-disciplinary approach to creating an accurate Resource/Reserve with substance to geologic, geostatistic, metallurgical, mining, and economical issues. This ensures your resource is done once and done right so that there are no critical flaws or impediments to beginning mine production. Our geologists and engineers have a flawless track-record with over 30 years of seasoned, continuous geostatistic experience.
Our principle is to be an unbiased and credible source for resources and reserves as demonstrated by how our resource estimations endure the most rigorous reviews and are accepted by leading international financial institutions. Clients value our independent advice for in which we offer powerful recommendations that further your company in developing a successful mining project. We, with our breadth of mining technical experience, will guide you to take every hidden opportunity and to diminish potential risks that have hindered others.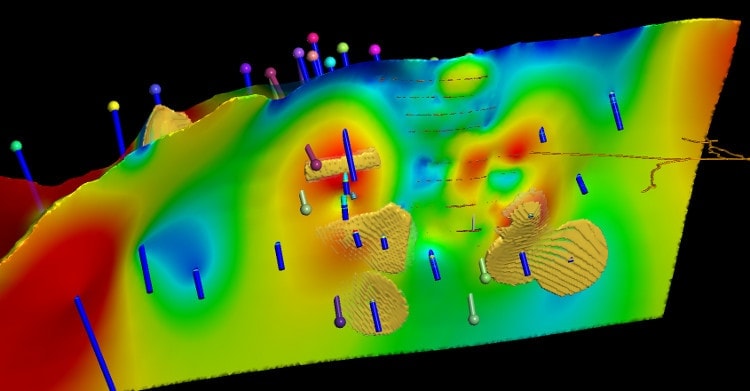 Serving Our Clients Since 1983
IMC prides itself on being trustworthy, versatile, cost effective, and receptive to our clients' needs and invested parties so that your objectives are met in the best manner possible to fit your requirements and schedules.
Many of our staff are qualified/competent persons and registered engineers who have the knowledge and experience to be aware of the pitfalls that can cripple a project at any stage of development. We would be happy to discuss your individual mine consulting requirements, Contact Us Here ».
Resource / Reserve Modeling and Estimation Services
Resource / Reserve Modeling Estimation

Integration of 3D and 2D datasets historic or digital
Application of sensible data domain controls as defined by metallurgy and/or geology
An approach that understands all data inputs and implications thereof instead of simply 'pressing the button'

Review and Verification (audit) of Reserves and Resources
Drillhole Data Quality Analysis and Quality Control (QA/QC)
Geological Modeling and Feedback Review
Mine production orientation so that the model feasibly produces what is estimated
Measured, Indicated, and Inferred (MI&I) /
Proven, Probable, and Possible (PPP) Mineral Resource Classifications
Resource Modeling Capabilities
Multi-disciplinary Approach to Creating an Accurate and Operational Resource with Substance to Geologic, Geostatistic, Metallurgical, Operational, and Economical Inputs
3D Geologic and Data Domain Solid Modeling, And Executive Presentation Thereof
Review Feedback Stemming from Our Extensive Expertise Spanning All Mining Commodity Sectors
Resource and Reserve Statements
Thorough Data Distillation for Trend/Risk Analysis
Rigorous Standards for Data Review and Resource Estimation
Focus On Feasibly Minable Resource Modeling Techniques
Concurrent Critical Flaw and Opportunity Identification
Independent Qualified Persons Public Technical Reporting (NI 43-101, JORC, SEC 10-K)
Other Mine Consulting Services We Offer:
IMC has been in business for over 33 years and has worked for more than 250+ different clients on over 500+ projects world wide. The staff of IMC has experience in a wide range of mineral commodities including base metals, precious metals, industrial minerals, and aggregates.
The IMC staff has been together for some time. Consequently, our project lists reflect the recent experience of the IMC principals and personnel.