CONTRACT MINE ENGINEERING
Whether your company is establishing a new mining operation or has a producing mine in need of temporary onsite technical staff Independent Mining Consultants offers flexible contract engineering solutions and services.
IMC staff have the professional knowledge to not only fill in vacancies but also the expertise to setup, develop, train, and transition your mine's engineering service department to a smooth operating mine.
Mine Support Services
Establishing onsite mine technical services, procedures, and systems such as:
New mine take-off technical service department setup and development
Mine planning hand-off and related necessary mine staff training
Managing the adoption of industry standard mine planning systems and reconciliation procedures
Custom tailoring mine planning systems such as MineSight Schedule Optimizer (MSSO) to your mine
Supporting ongoing mine operations with onsite short range or long range mine planning services:
Relieving short-term mine technical staff shortages with IMC hot swap staff subsitutions
Managing mine operations and ensuring that mine production is on schedule
Alleviating time sensitive annual or similar mine plan submittals and resource / reserve reviews by providing on demand mine planning support
Conducting optimization analyses such as sensitivity, options, and evaluation studies
Carrying out risk analysis and mitigation studies such as due diligence, project alignment, and critical flaw identification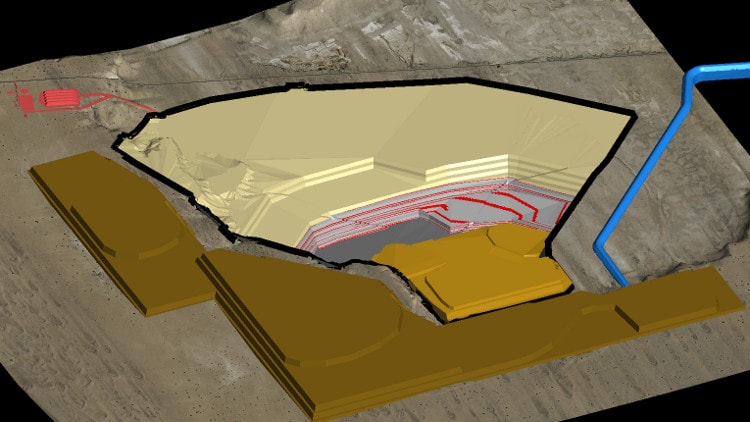 The IMC Dependable Durability
From mine project to producing mine IMC has served as project experts for clients – their persistent source and archive of project specific knowledge in spite of staff rotations and mine or project delays, closings, or restarts. On numerous occasions clients have reached out to IMC as we have had a long-standing involvement and valuable enduring historic expertise with the mine project.
Contact Us
IMC prides itself on being versatile, cost effective, and receptive to our clients' needs and invested parties so that your objectives are met in the best manner possible fit to your requirements and schedules. We would be happy to discuss your individual mine consulting requirements, Contact Us Here ».
MINE PLANNING SERVICES
Open Pit Mine Design and Mine Planning
Surface and Underground Mine Evaluation
Optimum Mine and Mill Lifecycle Production Rate Analysis
Production Scheduling and Strategic Planning (Short and Long Range)
Waste and Stockpile Storage Facility Design and Sequencing
Mine Equipment Evaluation, Selection, and Fleet Requirement Estimation
Mine Capital and Operating Cost Estimation
Life-of-Mine Cashflow Estimation/Analysis
Comprehensive Mine Planning Capabilities
Discounted Pit Optimization
Optimum and Operation-Oriented Phase Sequencing
Cut-off Grade Scheduling Optimization
Mine Product Constrained Scheduling Optimization
Thorough Data Distillation for Trend/Risk Analysis
Trade-off Studies and Best Case Selection
Cashflow Sensitivity Analysis
Detailed drawings of monthly and yearly mine plans including pit and waste rock pile developments.
Concurrent Critical Flaw and Opportunity Identification
Most of all, Our Versatile and Flexible Approach to Serve the Client and Their Needs
Other Mine Consulting Services We Offer:
IMC has been in business for over 33 years and has worked for more than 250+ different clients on over 500+ projects world wide. The staff of IMC has experience in a wide range of mineral commodities including base metals, precious metals, industrial minerals, and aggregates.
The IMC staff has been together for some time. Consequently, our project lists reflect the recent experience of the IMC principals and personnel.